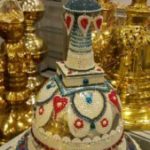 Nuwan Brassware is a well-known leading Brassware shop in Pilimathlawa and nearby areas.As we grow, commitment to our mission remains at the core of our identity. To fulfill our mission Nuwan Brassware is proud to have a specialized team of talented artists, designers, business and marketing experts, who are committed to team success.
Thank you for reading this post, don't forget to subscribe!
Quality is one of main goals of our group. All process of design and crafting are under supervision of quality and art & Marketing experts.Our products can be customized to fit to your requirements, your taste, and your style.
Now we are privileged to connect with millions of customers all over the world. We are specialized in customized brass pooja articles as per customer's requirements.We also deal with temple requirements for bulk orders.
Contact Us:
077-0590520
Listing ID

:

12284

pages

:

New